AURA ~ SPIRIT ~ CHAKRAS ~ ONENESS ~ PSYCHIC ~ ENERGY
Tarot & psychic readings, life path guru, energy healing, gemstone jewelry
| | |
| --- | --- |
| Posted on December 17, 2015 at 2:00 PM | |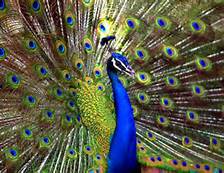 PEACOCK SYMBOLISM
The peacock is a symbol of RENEWAL, REBIRTH, RESURRECTION, AND IMMORTALITY.
Ancients believed that the peacock had flesh that did not decay after death; early Christian paintings and mosaics used peacock imagery.
Peacock imagery was often used at Easter, symbolic of RESURRECTION.
The peacock replaces its feathers annually, and is therefore a symbol of RENEWAL.
Early belief held that the Gates of Paradiso were guarded by a pair of peacocks.
The peacock has the ability to eat poisonous snakes without harm.
Both Origen and Augustine refer to peacocks as a symbol of RESURRECTION.
The Greeks dedicated the peacock to Juno, the goddess of the sky and stars, in recognition of the bird's golden and blue circles.
"By the peacock" was a sacred oath because the peacock was thought to have the power of RESURRECTION, like the Phoenix.
A necklace of amethyst, peacock feathers, and swallow feathers are thought to be a talisman against evil sorcery.
Christians thought, in early times, that the peacock's blood could dispel evil spirits.
The peacock often appears amongst the animals the Nativity scene.
Two peacocks drinking from a chalice symbolizes REBIRTH .
Angels are often depicted with four wings made of peacock feathers.
In mythology, peacock feathers were akin to the "evil" are "all-seeing" eye, because of the eye-like designs on the feathers.
In the western world, the peacock is the "slayer of serpents."
Alchemists thought that the fan of the peacock (cauda pavonis) was associated with images useful in turning base metals into gold.
Categories: None
/